Consultancy services
in areas of provincial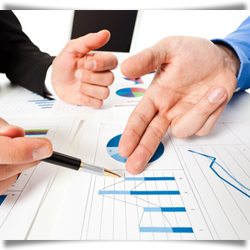 Economic Database Online.

This product is geared mainly to the development and consolidation of the business. It is the creation of a database with information at the neighborhood level or census tracts, which helps companies and new entrepreneurs to better understand the demographic and economic characteristics of the area they serve or intend to settle.
Population characteristics: age, sex, birth, death, migration, immigration pressure, aging, etc.
IAE Licenses: According headings of economic activities.
Car Park: By type and capacity (are indicators of the level of income).
Infrastructure and public services: Hospitals and health centers, schools, sports facilities, theaters, cultural centers, libraries, community centers, nursing homes and day centers, etc.
The information is available in a personalized way, exporting data to spreadsheet. Similarly, thematic maps could be represented at the level of districts or census tracts.



Catalog or Business Directory.

This product is aimed at the creation of a catalog or guide that allows the establishment of trade relations between companies, collaborations on joint projects, finding new customers and / or suppliers, at the same time possible a possible channel marketing promotion and online of products and services offered by the companies listed. The guide is oriented ICT as they settle through a Web platform, constantly updated. The Web Platform contains:
A database of companies, organized by industry and by district. For each record company, will open an individual file, with contact information for the company (address, phone, website, email, location on map) and socioeconomic data (Sector or activity, products and services offered, employees, billing average).
Forum trade relations, where supply and demand will turn employment, business opportunities, proposals for partnerships between business, etc.
Virtual Store, where interested companies could sell their products or services, highlighting their offerings and promotions, or the ability to offer product packs business partnerships.



Diagnosis City Trade and Business Innovation Plan.

This study consists of two parts: the first, would be directed to the knowledge of the current state of trade in the city, with a field investigation, concluding in a sector diagnosis. The second part, pursues the development of a plan of competitiveness and innovation, to improve the situation of trade, through changes in the marketing strategy, strengthening the partnerships between business, shopping and managing common services, etc..
Market research, classroom surveys to businesses and consumers, to know, first, the strengths and weaknesses of the commercial and, secondly, the assessment and demand satisfaction and its proposals to improve and enhance trade.
Report overall performance and area.
Creating forums and working groups, in which traders are integrated in order to propose joint solutions and consensus.
Competitiveness and Innovation Plan, contemplating strategic recommendations, measures and policies for future action agreed with traders.



Plan succession in the small traditional shops.

Every year close shops in town centers and shopping areas of major cities, the absence of a generational change in the company. In most cases, these businesses consolidated, with a great antiquity and loyal clientele, which could be continued by other entrepreneurs. To avoid the closure of these businesses, we propose a study to provide the necessary guidance to achieve this goal, the following works:
Identification and inventory of businesses with relay problems. This would be carried out market research in the commercial areas of the city.
Economic feasibility studies and legal to ensure the success of the baton to new entrepreneurs.
Action Plan on economic, training, advice and support after the entrepreneur.



Other ad-hoc studies.

Ad-hoc studies include those specific works that explore specific issues in order to make a diagnosis or bring actions aimed at improving the situation of departure. Other studies, together with raised earlier, led the Economic Development Area, Jobs and New Technologies are:
Study of technical and economic feasibility of projects to improve or replace infrastructure, or business projects.
Ex-post evaluation of plans, policies or campaigns to achieve one or more objectives.
Studies on new sources of employment in the city.
Study of training needs in the area of ​​new technologies, analyzing profiling claims made by companies in the sector and comparing job profiles found in the labor market.
Study of demand for new products to be included in the list of services from companies and public bodies.